New "Curiosity Rover" Landing Footage
NASA's Curiosity rover has transmitted a low-resolution video showing the last 2 1/ 2 minutes of its descent through the Martian atmosphere, giving earthlings a sneak peek of a spacecraft landing on another world.
Sponsored link:

NASA's Curiosity rover and its parachute were also spotted by NASA's Mars Reconnaissance Orbiter, which has been orbiting Mars since March 10, 2006: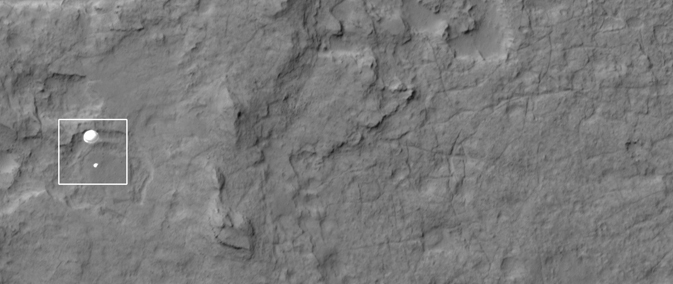 Image credit: NASA/JPL-Caltech/Univ. of Arizona
The "Mars Science Laboratory" or "Curiosity Rover" is the largest payload ever delivered to the surface of a planet.
The amazingly complicated descent and landing strategy is explained very well in this video below:



First, the atmosphere takes it from 13,000 mph to 2,000 mph. Then a parachute takes it down to 200 mph. The final, powered-descent stage lowers the craft to 21 feet above the surface, at which point it is lowered by a tether and the rockets detach and crash land elsewhere. The size of a small car, the craft has a planned mission length of two years, during which time it could travel over 12 miles. Curiosity's goals are to study the geology and climate of Mars, to determine whether there was once life there, and to prepare for future human exploration of the Red Planet.

Flixxy editors search the internet daily, to find the very best videos for you: SELECTION: From over 3 million videos uploaded to YouTube daily, we select only a few videos to be added to the site daily. PG RATING: Flixxy videos and comments are all PG rated. They are "Safe For All Ages" and "Safe For Work". Our content is uplifting. SELECTED START AND END POINTS: Many of Flixxy's videos start late or end early. We skip lengthy introductions and get to the point. CONCISE CAPTION AND DESCRIPTION: We don't use "click-bait." Your time is valuable, so we distill the information down to what you want to know.

FREE DAILY NEWSLETTER: Get the latest videos delivered to your inbox by subscribing to the FREE "Video of the Day" newsletter.